Annotate Your Video Data with Complete end-to-end Control
Alegion is now giving ML teams direct access to its powerful video annotation platform. Leverage an industry-leading video annotation platform and self-manage every aspect of your annotation project from ontology definition to exporting data. It's perfect for data science teams looking for the speed, tooling, flexibility, and quality they need to quickly annotate their video data. Reduce labeling time by as much as 80%.
First 150 Annotation Hours Are Free
Tackle your video annotation project with ease. Alegion Control gives you the access you need to quickly log in, configure, and start annotating. Rapidly iterate and validate on even your most complex use cases - with the first 150 annotation hours on us.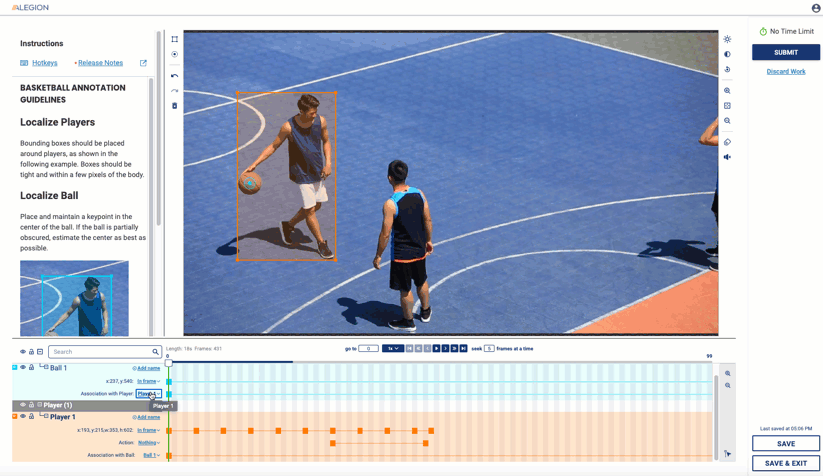 Sign up and Receive 150 Annotation Hours, Free
You have already submitted the form.
Powerful
Designed for big video - responsiveness at any length or scale
4K Streaming Video - No need to downsample or perform pre/post-processing
Unlimited Length - Videos clips can be presented in any length and frame rate
Native Video Annotation - Avoid errors introduced from splitting videos into images or small clips
Smooth Playback - Fast playback and annotation synchronization reduce annotation and review effort
Efficient
Reduce labeling time by as much as 80% through UX & automation
Unmatched UX - Purpose-built and tested for video, UX is more than 30% faster

Smart Automation - Interpolation and classification propagation reduce manual annotations by 50%
Smooth Playback - Fast playback and and annotation synchronization reduce annotation and review effort
Built with quality in mind - Timeline view and classification search accelerates quality review
Comprehensive
Supports complex labeling needs and large-scale collaboration
Rich ontology support - Quickly configure taxonomies and entity relationships and reuse across projects
Video asset management - Easily and securely reuse data assets across multiple projects with different ontologies and annotation guidelines
Built-in quality control - Monitor progress through built-in review workflow and projected record confidence based on configurable review scoring
We work across multiple industries
We work across many vertical markets and would love a chance to discuss some of our use cases. Recent projects include:
Retail shopper behavior monitoring
Television viewer behavior monitoring
Sport, motion and activity pose analysis
Drone-based traffic mapping and monitoring
Drone-based visual damage assessment
Factory activity and event monitoring
Medical procedure video assessment
Property surveillance and security monitoring